Hero Status
Hawking his new book, and enjoying the sudden celebrity of gay superhero, John Amaechi is making his rounds on the cable news channels. Known previously as a talented basketball player who never lived up to his potential, Amaechi's good looks, sexy accent and surprisingly articulate vocabulary are sure to provide him with another 15 minutes of fame as a gay athlete spokesman.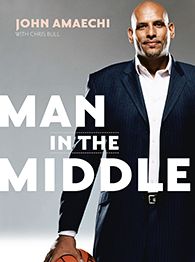 I caught him last week talking about how Utah Jazz coach Jerry Sloan benched him because Sloan thought he seemed anti-American. Watching John speak during an MSNBC interview, I can see why. He actually dared to suggest that criticism levied by NBA wunderkind Lebron James wasn't meaningful because Lebron "lacks experience" and "may or may not even have a passport." Once again, global citizens are suggesting that Americans need to travel the world before shooting off their mouths. Outrageous!
Many will be disappointed with Amaechi for waiting until he retired to come out of the closet... after all, several professional athletes (though none from the NBA) have done that already. People want a hero... a gay version of Jackie Robinson. It seems like the timing is just about right. Dallas Mavericks owner Mark Cuban even
thinks it could be a profitable move
for some brave soul. America wants an active player to make the announcement, suffer the slings and arrows of a homophobic society, and show grace under fire in order to help effect change.
I don't know. I think the fact that this guy played two full seasons in a state like Utah shows some heroic fortitude. Plus, it's just amazing to see an articulate basketball player (who even made it through an entire interview without thanking Jesus.) I thought former Knicks player and presidential candidate Bill Bradley would be the only cagey cager I would ever hear speak. It's a lot of pressure to dump on a guy, and I think the criticism is unfair. Amaechi has said that he isn't a hero. But when told by the interviewer that his actions kept others in the closet, he said (with conviction) "No, I'm not keeping people in the closet. American society is keeping people in the closet." I think that's well-stated, and statesmanship is something we lack almost as much as leadership.
Labels: Philosophy, Sports