The Fountain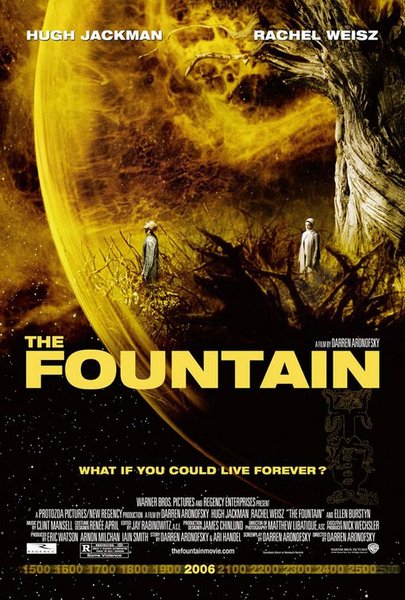 Bummerman went to the movies yesterday, and he is most pleased. Stave It Off's official Nephew, Dan "the four-fingered man", came to town and joined us for a viewing of the Fountain: One of Stave It Off's recent picks for most eagerly anticipated films.
Aronofsky's relentless series of gutpunches delights me to no end. He did not stoop to include a single moment of comedic relief (unless you're the kind of person who finds yoga poses or tai chi katas humorous.) The weak suburban audience snickered occasionally (at the more over-the-top sentimental moments) but that was only because they were uncomfortable with the director's intensity. Real viewers (those of you awesome enough to be like Bummerman) will open their hearts and minds and just accept that this movie makes you cry for two straight hours. The driving themes of The Fountain involve death, transcendent belief in eternity, and man making peace with his desire to conquer everything... not exactly light fare but they are investigated with surprising taste and restraint (given the science-fiction/fantasy trappings.)
The use of 16th and 25th century imagery to illustrate these themes is done with breathtaking care. The visual imagery and the music (especially the music) suitably enhance the emotional impact of the film.
And Huge Ackman deserves special mention. The ability to sell your performance in this kind of film is key to everything, and he delivers magnificently. And the ladies will probably appreciate seeing him in tight leather pants (accentuating his Ackman nicely) and one particularly well-filmed bathtub scene.


Labels: Movies